MEKU Remain extractor

for the residual rest-sample


Order no.: 9.0256
The MEKU-Remain Extractor for the residual rest-sample consists of two main equipment-parts:
1. the wide coarse-extractor for a larger sample-volume
2. the following fine-extractor for a small sample-volume respectively the half-cleaned sample volume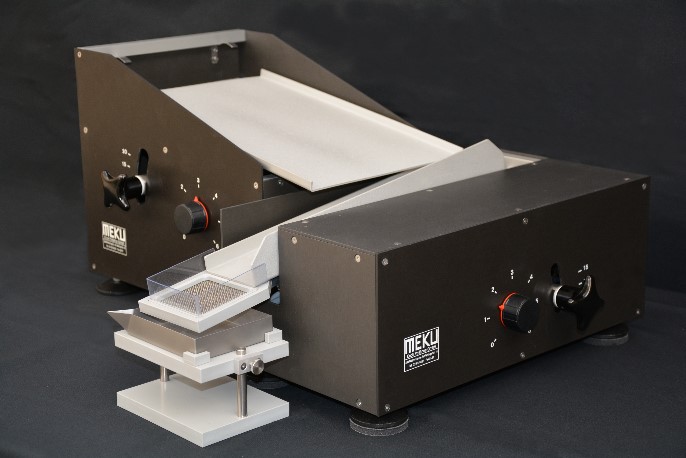 The use of the machine is for cleaning the washed and dried rest sample, which means, the nematode-cysts will be selected of the natural admixtures. That will be done by the most harmoniced vibrator as quickly as exactly.
After starting and adjusting the two vibrators, for the optimal frequency amplitude and the angle of the selection-course with the material of the rest-sample, the dried sample-material moves at the wide selection-course over the whole wide in a middle-position of it. Now the most parts of the admixture are floating in the container on the top, and the cysts are rolling down to the second, the small vibration course and than trough the final seep in nematode-container. The rest of the admixture will float on the top of the small course.
The casualties of the nematodes depend on the possibility of the alignment, the form of the cysts and structure of the admixutre, 1 - 2 % casualities are possible.