MEKU Fenwick can


Order no.: 9.0255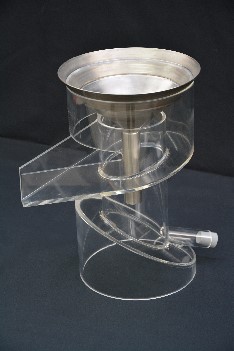 The general principle of cyst separation by means of this utility, designed by Dr. Fenwick nearly half a century ago, has been in use until today as the primordial tin can.
One essential disadvantage has always been accepted: the problem of carry-over between the individual working cycles. Sometimes bad finishing of the somewhat inaccessible inner parts as well as the poor possibility for cleaning the tool let us search for improvements.
The result of our efforts is the acryl-glass can. Thirty years of experience with the Soil-Sample-Extractor have motivated us, offering an optimised device made of acrylic glass while retaining the proved geometry.
The advantages: